START YOUR DRUG INSPECTOR PREPARATION WITH US !!!!!!!!!!
DRUG INSPECTOR STUDY MATERIALS
The content of study material is as follows: In hard copy
Module I & II-Pharmacognosy
Module III, IV & V- Pharmacology
Module VI & VII- Pharmaceutical Analysis
Module VIII & IX – Pharmaceutics
Module X, XI, XII – Medicinal Chemistry
Module XIII-Physical, Organic & Inorganic chemistry
Module XIV – Biochemistry, Microbiology & Biotechnology
Module XV- Digester (Chart & Tables for for rapid revision)
Module XVI– Pharmaceutical Jurisprudence
Syllabus of various states Drug Inspector Examination, Telephonic guidance up to Exams.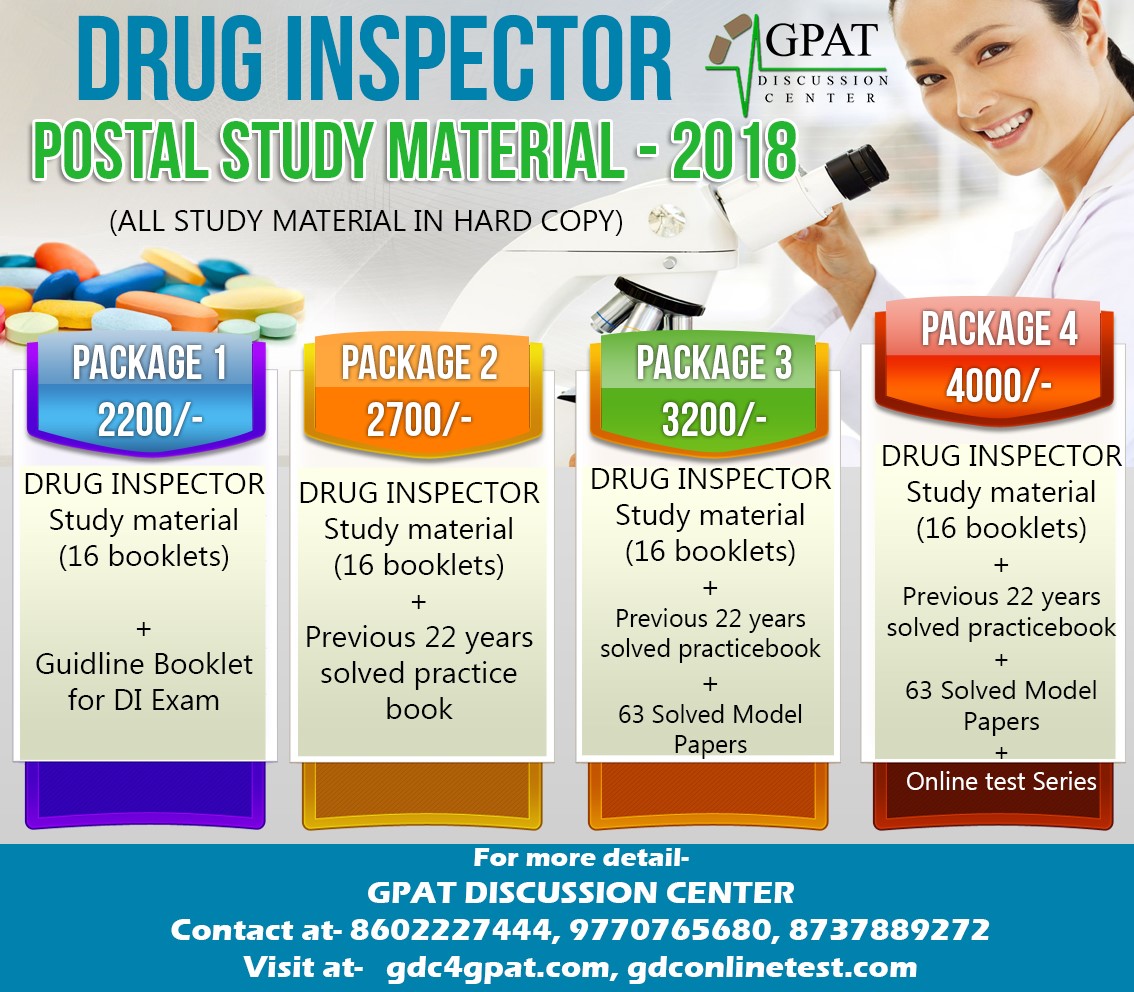 24 Years Solved Drug Inspector Question Paper
GPAT Discussion Center(GDC)  is very proudly to announce the release of 24 years solved question paper of Previous DI examination. Solving old DI question paper may gives you a fair chance of qualifying the Drug Inspector Examination.
Rajasthan University of Health Sciences, Jaipur DCO Examination -2018
Madhya Pradesh Drug inspector – 2017
Kerela drug inspector – 2017
Chhattisgarh(C.G.) Drug Inspector -2015
UPSC Drug Inspector – 2015
MPSC Drug Assistatant Commisoner – 2014
Jharkhand Drug Inspector – 2013
Andhra Pradesh Drug Inspector – 2012
Madhya Pradesh Drug Inspector – 2012
Odisha Drug Inspector – 2012
MPSC Assistant Commisoner (Drug) Exam. – 2012
Tamilnadu Drug Inspector – 2012
Drug Controller Officer (Dco) Rajasthan – 2012
Himachal Pradesh Ssc – 2012
UPSC Drug Inspector – 2011
Gujarat Public Service Commision – 2011
Gujarat Drug Inspector – 2010
Gujarat Govt. Lecturer Examination Degree/Diploma Pharmay College – 2010
Chhattisgarh Drug Inspector – 2009
Himachal Pradesh Drug Inspector – 2009
MPSC Drug Inspector Examination – 2008
Bihar Drug Inspector – 2008
Drugs Inspector Selection Test Bihar – 1998
Drugs Inspector Exam, Rajasthan – 1996
Only Drug Inspector Practice Work BOOK- Rs. 800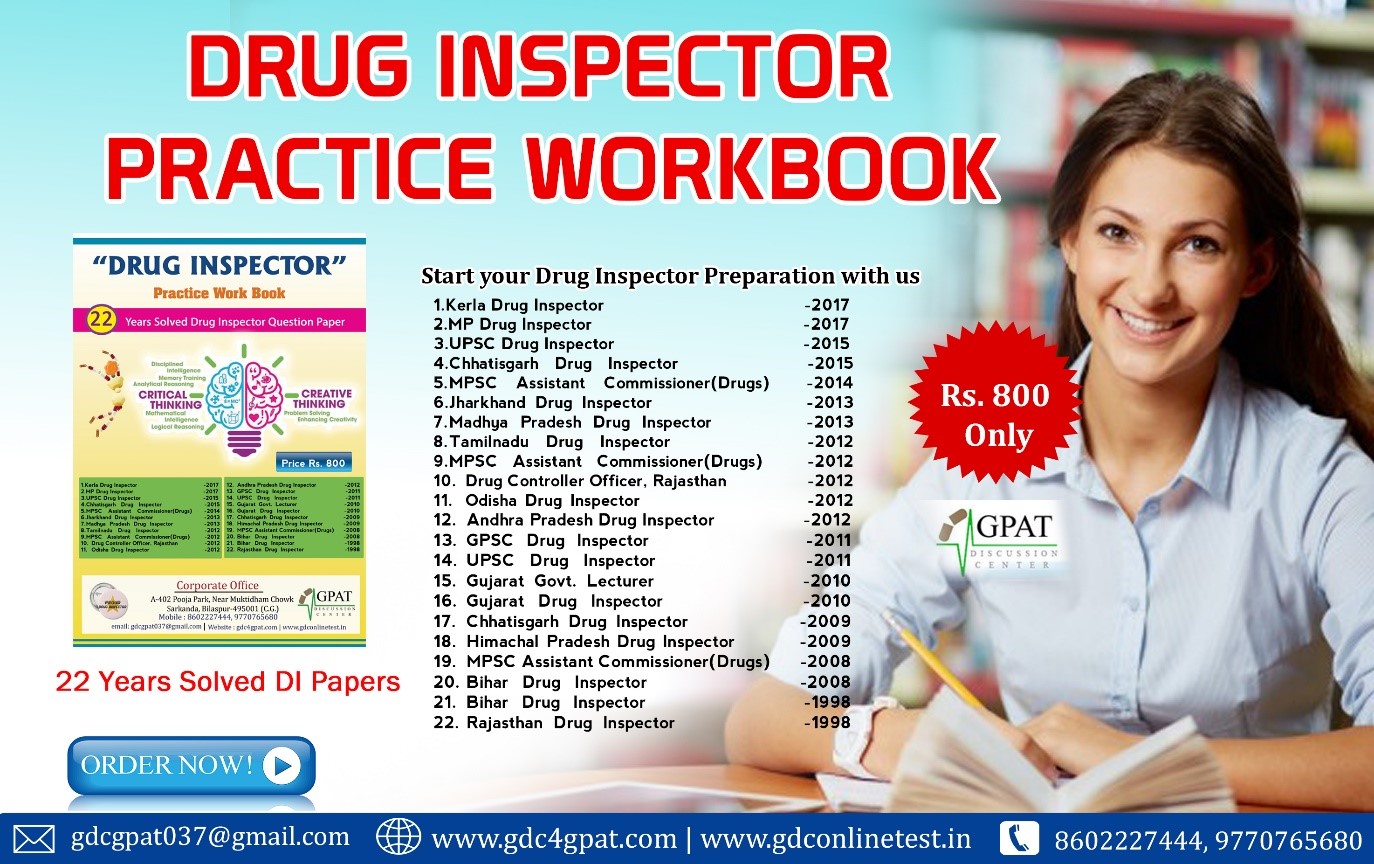 Drug Inspector  63 Solved Model Paper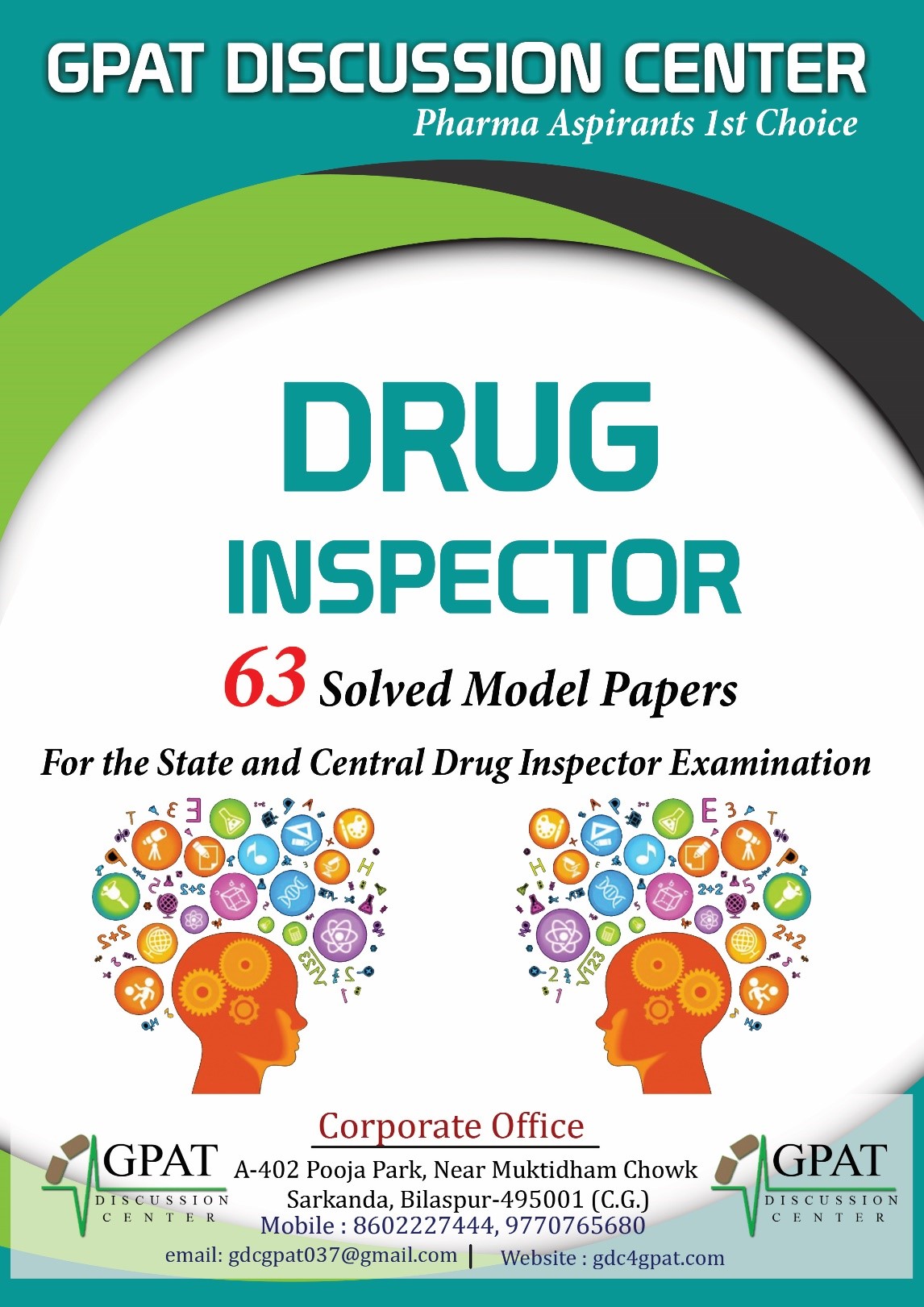 Both 20 YEARS DI PAPER + 63 DI MODEL PAPERS – Rs. 1200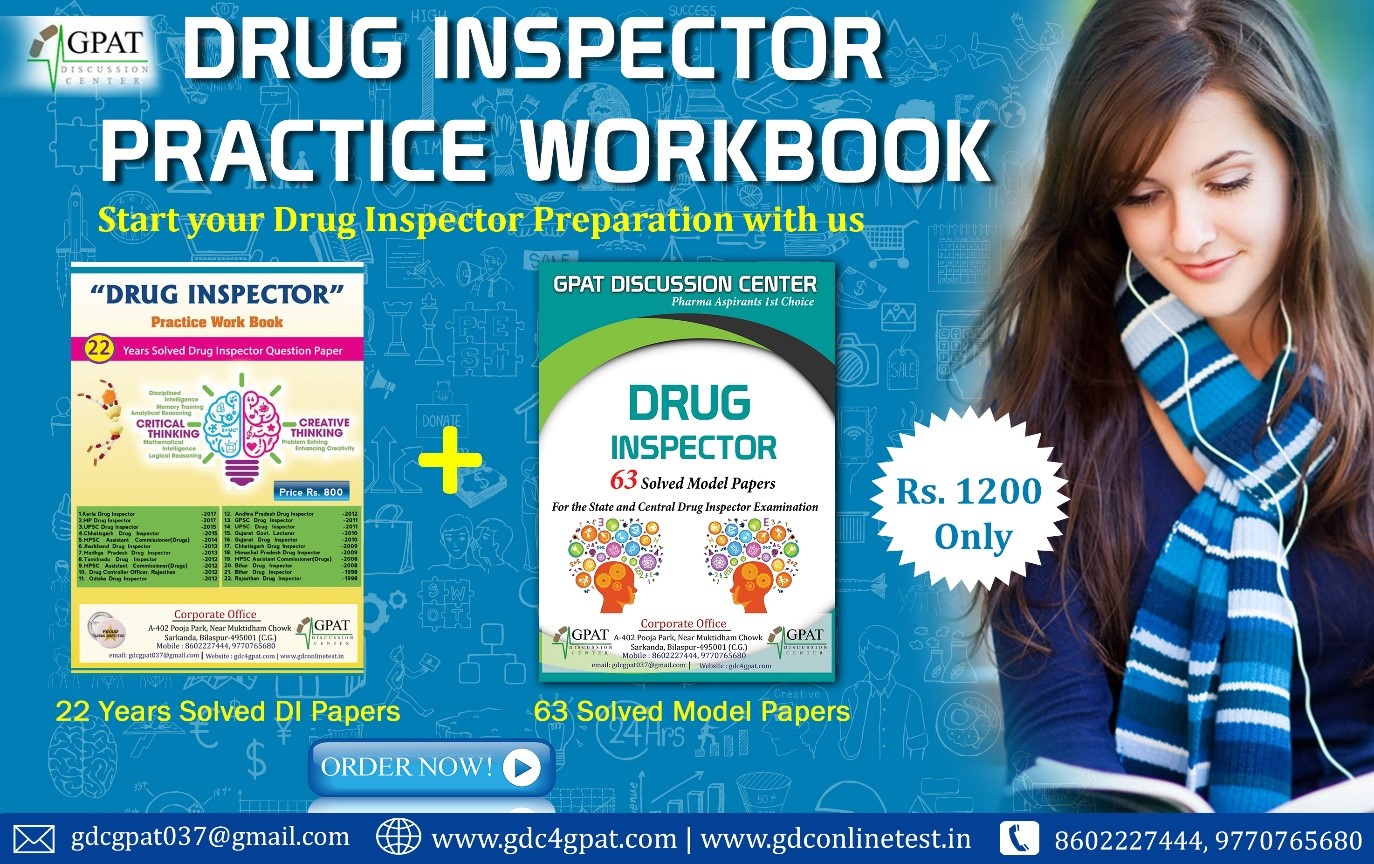 Call us for study material at 8602227444, 9770765680, 8737889272 and get the best rank .!!!!!!
#  HOW TO OBTAIN STUDY MATERIAL BY POST
OPTION I
Order Online from Our website by DEBIT CARD, CREDIT CARD OR ONLINE TRANSFER through PAYYOU MONEY

OPTION II
Choose pack according to your requirement. Pay the course fee in our bank account given below
Direct -Cash Deposit Payment/Online Transfer
Step 1
CASH DEPOSIT/ONLINE TRANSFER
You can deposit Cash in the Account of at the Bank :
Bank Name: ICICI Bank
Name of the Account holder: GPAT Discussion Center
Account Type: Current
Account Number: 242605500015
IFSC Code: ICIC0002426
Step 2
Candidate should scan the counter slip of cash deposited or reference number of onlintransfer in the ICICI Bank and send it on our email id- gdcgpat037@gmail.com . You will get information regarding your pack activation by mail or SMS within 24 hours.
ADDRESS:
GPAT Discussion Center
A-402, Pooja Park
Near Muktidham Chowk,Jabrapara
sarkanda, Bilaspur -495001
Chhattisgarh.
HELPLINE NUMBER – 9770765680, 8602227444