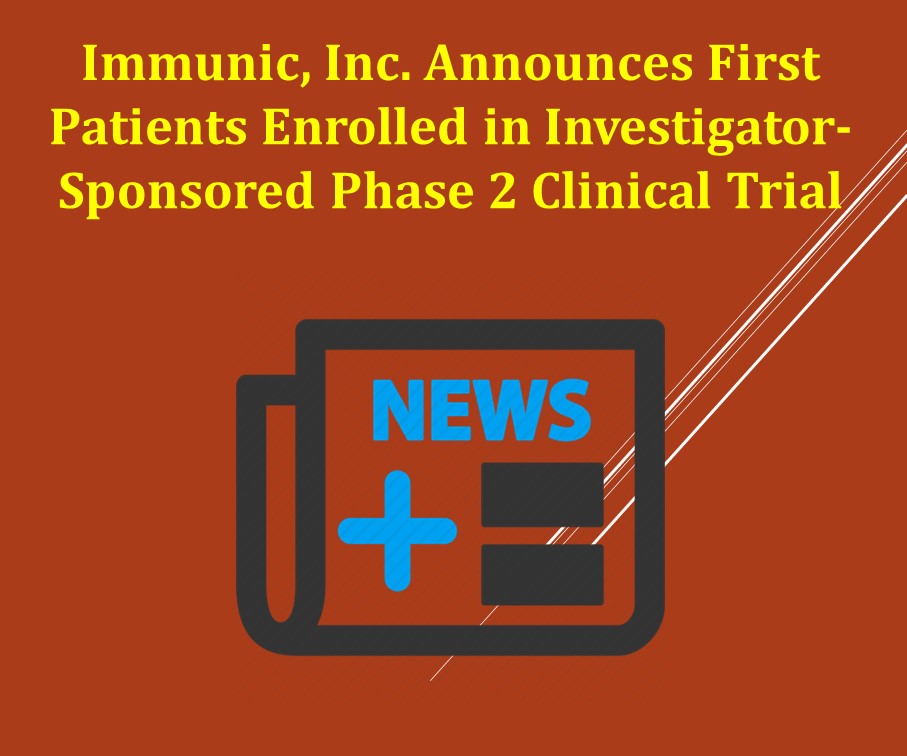 Immunic, Inc. Announces First Patients Enrolled in Investigator-Sponsored Phase 2 Clinical Trial
July 29, 2020

Posted By :

admin

0 views
Immunic, Inc., a clinical-stage biopharmaceutical company focused on developing best-in-class, oral therapies for the treatment of chronic inflammatory and autoimmune diseases, today announced enrollment of the first patients in an investigator-sponsored phase 2 clinical trial of the company's selective oral DHODH inhibitor, IMU-838, for the treatment of patients with coronavirus disease 2019 (COVID-19). The IONIC trial is a prospective, randomized, parallel-group, open-label phase 2b study, designed to evaluate efficacy and safety of IMU-838 in combination with the neuraminidase inhibitor, Oseltamivir (Tamiflu®), in approximately 120 adult patients with moderate-to-severe COVID-19.
The IONIC trial has been set up with the support of the in-house Trial Management Unit (TMU) of the sponsor and lead site, University Hospitals Coventry and Warwickshire (UHCW) NHS Trust. The IONIC trial has commenced recruitment at the lead site and the TMU is actively engaging with other NHS trusts interested in participating in the trial to facilitate recruitment.
"The healthcare community has never faced a more urgent need for new therapies than the unprecedented situation we currently face with the COVID-19 pandemic," commented Prof. Ramesh Arasaradnam, Gastroenterology Consultant at UHCW NHS Trust, Chair of the British Society of Gastroenterology (BSG) Research Committee and Chief Investigator of the IONIC trial. "Recent third-party research has highlighted the powerful synergy between direct antiviral drugs and DHODH inhibitors in preclinical models. We believe that the combination of Oseltamivir, which is a licensed drug in the United Kingdom, and IMU-838, may offer a promising approach for the treatment of severe viral infections, including mid-to-late-stage COVID-19 patients."
IMU-838 has successfully demonstrated preclinical activity against severe acute respiratory syndrome coronavirus 2 (SARS-CoV-2). Specifically, IMU-838 was observed to inhibit replication of clinical isolates of SARS-CoV-2 associated with COVID-19. In cellular assays, IMU-838 demonstrated this antiviral activity at concentrations which are well below the blood concentrations associated with IMU-838 dosing regimens studied in ongoing and previous clinical trials. In addition, IMU-838 has an attractive pharmacokinetic, safety and tolerability profile and, to date, has already been tested in about 650 individuals.
The IONIC trial, for which Immunic is providing the study medication, is expected to enroll approximately 120 hospitalized patients, 60 in each treatment arm, with moderate-to-severe COVID-19 who will receive IMU-838 plus Oseltamivir, or Oseltamivir alone, for 14 consecutive days. All patients are also eligible to receive standard-of-care therapy throughout the duration of the study. Inclusion criteria are adult patients with a confirmed or suspected SARS-CoV-2 infection fulfilling clinical status category 3 to 5, as assessed with the seven-point ordinal scale proposed by the World Health Organization (WHO) master protocol.