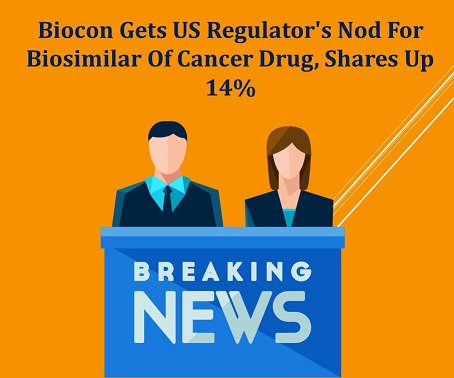 Biocon Gets US Regulator's Nod For Biosimilar Of Cancer Drug, Shares Up 14%
February 10, 2018

Posted By :

Peeyush Jaiswal

40 views
New Delhi: Shares of Biocon on Monday surged as much as 14 per cent after the biotechnology major said it has received regulatory approval to market a biosimilar of cancer drug Herceptin in the United States. The US health regulator has approved Mylan NV's biosimilar Ogivri, co-developed with Biocon, for the treatment of certain breast and stomach cancers, a company statement said.
Following the announcement, shares of the company opened on a bullish note and surged 14.20 per cent to touch an early high of Rs. 510 on the Bombay Stock Exchange (BSE).
A similar movement was seen on the NSE, where the stock opened at Rs. 491.95, then gathered further momentum and touched an early high of Rs. 509, registering a jump of 13.80 per cent over its previous closing price.
"Biocon and Mylan have a shared commitment to enhance access to cutting-edge bio-therapeutics and this approval will enable us to provide an affordable alternative for cancer care that will address the unmet needs of patients in the US," Biocon CMD Kiran Mazumdar-Shaw said.
Mylan and Biocon's biosimilar for Herceptin is also under review by regulatory authorities in Australia, Canada, Europe and several additional markets, the statement said. It is already approved in 19 countries around the world, including India, thus providing increased access to this more affordable biologic for cancer patients, it added.
Mylan CEO Heather Bresch said: "The approval of Ogivri represents a monumental achievement for Mylan to increase patient access to biosimilars and deliver significant savings to the US healthcare system."
For latest pharma News, like us on Facebook