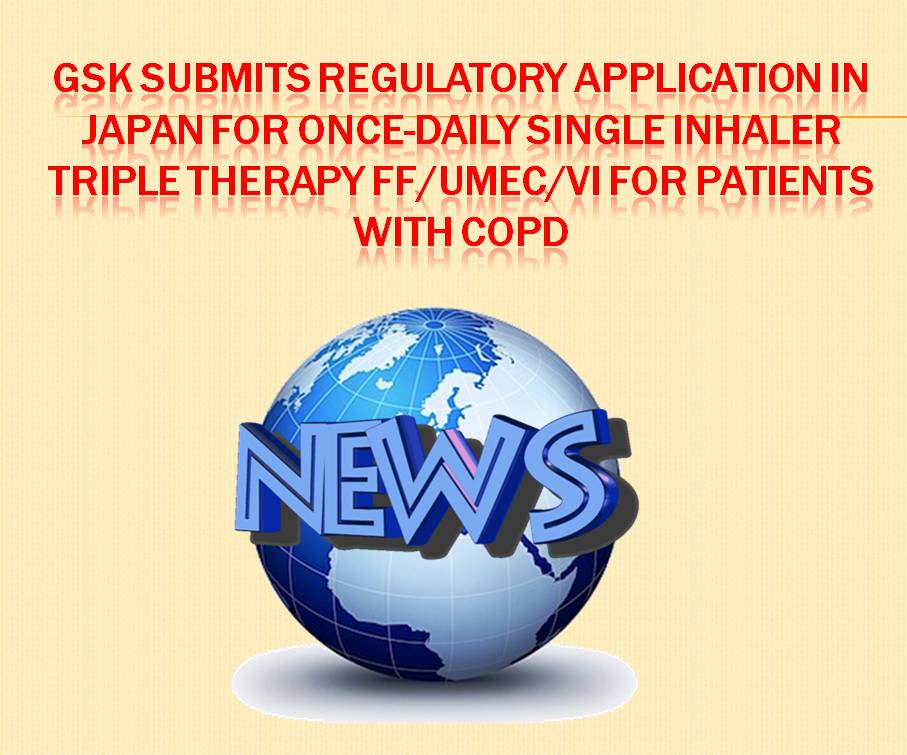 GSK submits regulatory application in Japan for once-daily single inhaler triple therapy FF/UMEC/VI for patients with COPD
May 31, 2018

Posted By :

admin

59 views
Dave Allen, Head, Respiratory Therapy Area R&D, GSK said: "COPD is a debilitating lung disease affecting over five million people in Japan. Many patients require combination treatment with different types of medicines to reduce both symptoms and exacerbations but there is currently no triple therapy available in Japan delivered in a single inhaler. If approved, once-daily FF/UMEC/VI delivered in the Ellipta would be an important innovation in the management of COPD in Japan alongside our current range of treatments."
The New Drug Application is primarily based on data from the Phase III IMPACT study which included 378 patients from Japan. In the overall study population, FF/UMEC/VI was superior to the inhaled corticosteroid/long-acting beta2-adrenergic agonist (ICS/LABA), Relvar/Breo Ellipta (FF/VI), and long-acting muscarinic antagonist/long-acting beta2-adrenergic agonist (LAMA/LABA), Anoro Ellipta (UMEC/VI), on multiple clinically important endpoints, including reducing exacerbations and improving lung function and health related quality of life. Similar trends were observed in the Japanese population for the primary endpoint as well as across multiple secondary and supportive efficacy endpoints.
Dr Ted Witek, Senior Vice President and Chief Scientific Officer at Innoviva added, "We are delighted to have filed a new drug application for the first single inhaler triple therapy for the treatment of COPD in Japan where the prevalence of COPD is of public concern. We look forward to a decision from the MHLW, which, if positive, would provide a new therapeutic option for appropriate patients with COPD in Japan." 
The proposed indication is for the relief of various symptoms with COPD (chronic bronchitis, pulmonary emphysema) (in the case where concurrent use of inhaled corticosteroid, long-acting inhaled beta2-agonist and long-acting inhaled anticholinergic drug is required.)
FF/UMEC/VI is currently licensed for use in the US, EU and a number of other countries under the brand name Trelegy Ellipta. It contains three molecules, an ICS, a LAMA and a LABA, delivered in the Ellipta dry powder inhaler which is used across GSK's new portfolio of inhaled COPD medicines.